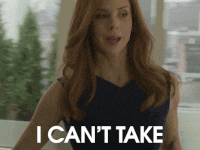 It has been four weeks ago when I was so glad I got my MacBook back, so I could finally post again.
The reason I did not post anything ever since is not that I have no ideas, sometimes real life kicks in and you have no choice.
There are urgent things that need to be done, friends you like to see, classes you need to take, workdays you need to get through with and those small breaks for yourself.
You day as well as my day does only have 24 hours and to be very honest with you, I need a good 7-8 hours of sleep.
But enough, this is not a complaining post about how much I had to do the past weeks.
I can promise you that I won't quit my social media life, I like posting too much.
Beneath all the classes and the preparing for classes I will try to write some posts that will go online about every 3-4 days.
Until then, sweethearts!
gif via giphy.com