Ev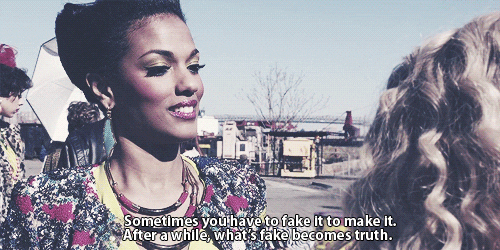 eryone is faking something and we all know that women are masters of faking. And it is okay, most of the times it is even necessary and expected.
I guess what we fake the most are beauty and style. Or do you really believe we do have those rosy cheeks at 7am? And yes, we do have leg hair. Our eyelashes are not that amazing and bras can also help faking a lot. It does not mean we're artificial, we just like to look pretty. We love it to bring out our prettiest and our best.
To be honest I also do not know any woman who is walking around in heels all day. I am the worst at walking in heels, but sometimes they are the accessory that makes your outfit complete. So I wear my sneakers while my heels are in my bag until I am at the office. That is the trick. This is faking your ability to walk in heels. Okay I admit, you do have to walk around in the office at least. So a little skill is still needed. But this is what it takes, there is no successful faking without a little bit of skills.
In order to be successful in our job, at University or wherever else we want to achieve something, we have to fake it too sometimes. What I mean is being nice when you are really furious inside, saying you can do it even if you are not sure, because sometimes you need to push yourself to do something.
This is why faking sometimes sometimes really is good for you.
gif via giphy.com