F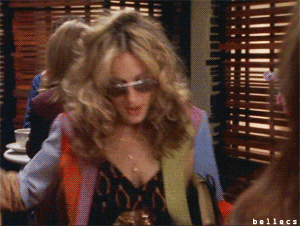 amous words sung by Fergie. Where else would such lines fit better than the first Sex and the City movie!?
Without a doubt, I'm a sucker for labels.
You basically never see me without a purse from no significant or well known label.
I am Louis' bitch, Michael's friend, Furla's lover, I chill with Longchamp and daydream about Chanel and Prada. Burberry is for fall, cashmere keeps me warm in winter.
If I could walk in high heels I would go to class in Manolo.
I must be a mean, superficial, drama queen, chick! Oh and of course I have to be rich or someones sugar babe!
Surprise! I am not. I love labels and I adore fashion. Vogue is my favorite magazine, yet I can talk about the latest Game Of Thrones episodes or how long it took me to read The Lord Of The Rings. I played Barbie a lot, but I also had cars and went to the forrest, building tree houses with my friends. I examined bugs, ate sand. I wear sneakers over heels. I swear and I am too honest sometimes. I cry, I eat ice cream while watching gossip girl, I take ballet classes. I can lose it over soccer or basketball games, I make dirty jokes and sarcasm is my second language.
I am me. You can not know me based on my clothes, based on what you see or what I buy.
In fact, doing so makes you superficial. How would you know where I got my things from? Or how mich I work for it? How can you see if I am cool or not?
Make 2017 a year of less judgement and free yourself from prejudice.
gif via giphy.com